There are so many different styles and sizes of towel bars that you really need to look into the options before buying the first thing you see. There are considerations such as making sure the construction fits the use and environment. You also need to take into account the location, design, and installation details. If you have searched your local stores and cannot seem to find just the right wrought iron towel bar to match your other decor, you really should look to eBay where you can find a complete selection at the lowest possible prices. You do not even need to leave home to search.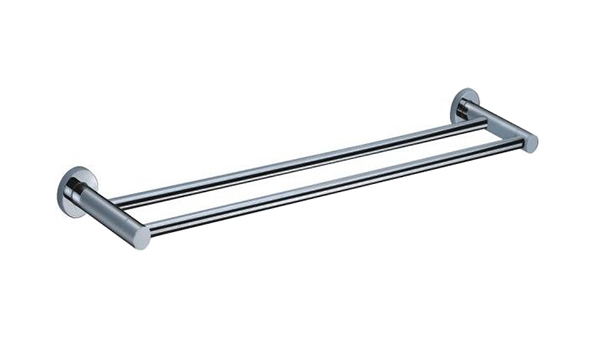 Location
More than any other variable, the location of the towel bar has the greatest influence on size. They are typically positioned anywhere from 30 to 48 inches above the floor. Most vanities are 30 inches from the floor, and towel bars often extend from them. Near showers, 48 inches is more common. The location often determines the height and, therefore, the length.
Construction Materials
Your choice of construction material affects both price and performance. Ideally, a towel bar installation lasts indefinitely. A mounted towel bar is one of those items where the labor is usually the more expensive component.
Metal
Nickel towel bars have made a comeback recently due to the improvements in the finish coatings. The term nickel often refers only to the color, not the actual construction metal. Many traditional and antique decors are more suitable to brass finishes. Take note of whether the metal is the more permanent solid brass rather than plated, which has a tendency to wear over time. Common chrome finishes are also available in a range of prices. It makes good sense to spend a little more on the purchase to prevent an early replacement. Iron and especially bronze are wonderful, rich metals that impart both beauty and substance.
Plastic
Plastic towel bars have some upsides, especially outdoors or in a garage. These areas often sustain weather-related abuse, and plastic holds up very well. Some surprisingly durable and attractive plastic bars also work fine for many bathrooms and kitchens. Modern composite products are often hard to distinguish from pricier materials.
Wood
While it may seem like wooden towel bars would not be ideal for wet towels, the sealants in use preserve the wood effectively. Wood is versatile enough to be compatible with most decors, and it is available in a wide range of tones and painted finishes. As with metals, err on the side of quality rather than buying the model with the lowest price.
Design
While the most common design is a bar, consider other options, such as a hook or hoop style. Some people who have the floor space and want to avoid penetrating walls prefer freestanding racks that accommodate three or more towels. Heated towel bars add a welcome bit of luxury, especially during the winter in northern climates.
Installation
Ideally, you only mount a towel bar once, since it should last for decades if you install it properly. Regardless of design, if you are attaching it to any hollow wall, you must be certain to locate the studs and screw directly into them. This often limits the exact placement. Consider any towel bar that relies on an adhesive to be temporary. For those without the proper tools, a freestanding floor rack is an attractive option.
The table below summarizes these towel bar variations and lists what to look for and what to avoid for each:
| | | |
| --- | --- | --- |
| Towel Bar Aspect | Look For | Avoid |
| Location | One that matches the decor | Over or under sizing |
| Metal | Solid throughout | Inexpensive plating |
| Plastic | Hard plastics such as Plexiglas or solid composites | Thin and hollow |
| Wood | Hardwoods with a good, protective finish | Softwoods, such as pine |
| Design | Proper size for the intended use | One that conflicts with room decor |
| Installation | Sturdy and permanent | Screwing into hollow walls and adhesives |
If you take a little time and consider the options thoroughly, you are less likely to regret your purchase. Everyone has a tendency to look for the lowest prices. In the long run, a high-quality towel bar can eliminate the frustration of installing a replacement.
How to Buy Towel Bars on eBay
Every possible size and style of towel bar is available on eBay, and each one is simple to locate. A search feature is available on every page. Just enter the description of the item you desire to arrive at all current listings. Refine your search by choosing a price range, location, and construction material, among other factors. Note that some merchants may offer free shipping with or without a minimum spend.
With so many options, many people change direction after they begin their search. You may start looking for a standard 24-inch chrome towel bar and find that a rack with shelves and multiple bars is simply too cost effective to ignore.
HOMEIDEAS 3M Self Adhesive Towel Bar 15.6-Inch Towel Hanger Bathroom SUS304 Stainless Steel Towel Rack Bath Wall Shelf Hanging Towel Stick On Sticky Hanger,Brushed Nickel
When sticking, do not touch the glue, keep the rubber surface and the wall smooth,clean and dry. Let the...
3M SELF-ADHESIVE: Sticky backing is a 3M product, strong adhesiveness and protects against water.The...
ALL METAL: This towel bar constructed by SUS304 premium-grade stainless steel , ensuring quality and...
Unlike most towel bars on the market, this product is unique, not only using 3M self-adhesive, but also...
If you don't like drill on the wall and cheap plastic material bar, this item would definitely fits your...