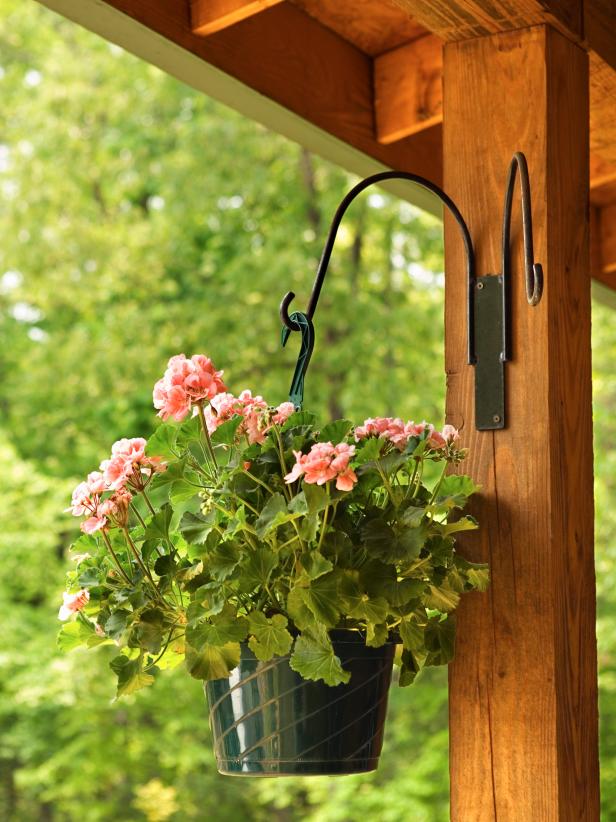 There's no denying that hanging baskets are attractive and can transform an otherwise ho-hum area into something special, but they come with certain hang-ups.
How to Support Hanging Baskets
Let's face it: Hanging plant baskets and containers can be heavy! One way to reduce the weight of a hanging basket is to use a light potting mix, ideally one that contains a fair amount of perlite or vermiculite. You can also add perlite or vermiculine to your favorite mix.
But even a small basket that's been lightly potted can require a hefty hanging device, depending on where you choose to hang it, so make sure to choose the right hanging fixture. Here are three options:
On a flat wall, you'll need a bracket, so that the basket doesn't bang against the house. These are best installed with screws on wood surfaces and anchor bolts on masonry surfaces.
On a roof overhang, hooks are great, and they're available in different sizes.
Free-standing hangers are nice for baskets, but make sure you get the ones that stake securely into the ground.
How to Water Hanging Baskets
The biggest problem with hanging baskets is that they dry out quickly. After all, they're completely exposed to the elements, and high winds in particular can force you to water your hanging baskets as often as twice a day. These ideas can help:
Consider using a watering wand with an adjustable head. Many wands also include adjustable spray patterns, and with hanging baskets, a soft shower is ideal.
To reduce your watering trips to the basket, try adding polymer, or water-absorbing crystals, to your potting mix. The crystals absorb several times their weight in water, and then release the water slowly over time.
Water slices work in a similar fashion. Put the slice in a bowl of water, water for about three hours, and then place it in the bottom of a hanging basket prior to planting. The water slice will release water over a period of up to a week. When you water your basket, the slice will continue to do its thing.
Water wells are another option. Place the well in the bottom of a basket before planting, add a bit of water and top with planting mix. The well acts as a reservoir and plants are able to pull water up through their roots.
If you are looking for the simplest way to create a full and fabulous garden, look no further than the fantastic hanging basket. Chock full of healthy, flowering plants, hanging baskets are available in a myriad of colors and varieties. Choose from begonias to petunias and everything in between including combination baskets filled with two or more complementary plants.
3 FUN WAYS TO USE HANGING BASKETS IN YOUR GARDEN
Here are three ways to use hanging baskets in your garden:
Hang them up – everywhere! Hanging baskets add a little something extra to the garden. While most flowers are planted in the ground, hanging baskets can bring color up to eye level. Add brackets to your fence posts or use shepherd hooks to add flowering color along stretches of fence line or in front of screening plants such as arborvitae and Leyland cypress. Hooks between posts on a porch are also a great place to add color or the graceful look of a Boston fern.
Plant them in the ground. Fill your garden beds in a snap with gorgeous flowering hanging baskets instead of using flats or small pots. You'll have instant color without all of the extra work of digging individual holes for each small plant from a flat.
Pot 'em up! Choosing which plants to add to your patio planters can be a chore. Take the guesswork out of planting by selecting hanging baskets mixed with several different plants to add color to your planters all season long. Simply remove the hanger, pop the plant out of the basket and plant it in the planter as you would any other annual and voila! Your planters are bursting with color!
Stop by Hicks Nurseries today to view our spectacular selection of hanging baskets. From bloom size to color and health, we have the very best plants available for your Long Island garden. We love gardens as much as you do!